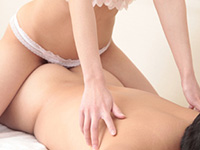 I usually look forward to visiting Hong Kong, but my last business trip to the island found me in a foul mood. My flight in had been twice delayed, I was frustrated with my boss's assignment for me and constant micromanaging of the most simplistic tasks, and I was unhappy to be alone in the Wanchai hotel in such a negative headspace. Sitting in the hotel, I flipped on the TV and quickly turned it back off; I brushed up on some emails; I had a drink or two t the bar along the Wanchai Road. Nothing was able to distract me from my mood.
All of a sudden I had a notion; I remembered what a friend had said about outcall massages in Hong Kong, and about what an incredible time he had had with the loveliest female masseuse. I decided that I had absolutely nothing to lose, and gave the agency that he had suggested a call. Within half an hour, there was a soft rap on my door, and when I answered the door my earlier problems swiftly began to melt away. A beautiful and petite woman was standing in the doorway; as her perfume wafted over me and she spoke in a delicate whisper to introduce herself, I had a difficult time remembering what I was upset about earlier.
She explained that she specialized in tantric massage and had received extensive training in other areas, and after a few minutes of easy conversation punctuated by giggles from her adorable mouth, she went right to work. She began slowly, focusing on loosening up my tighter muscles. My thighs were cramped and my shoulders were tense from spending so much time on the runway during the flight delays, so she concentrated mostly on those areas for the first ten minutes. After the first ten minutes, I slipped into something close to a dream state, and the rest of the session was a blissful blur. Her small but firm hands gripped every inch of my skin and caressed the worry out of my soul: I felt as though I was adrift on a calm sea, without a thought in my hand or a care in my heart. Out of my reverie, I heard myself responding to her casual conversational overtures, but I had no idea what I was saying. All that I could concentrate on was the pleasure being conveyed through her fingertips, and the disappearance of the dull ache that had been plaguing my back and legs for so long. I looked up every once in a while and saw her full lips forming sentences, laughing at my body's tightness, and smiling broadly whenever I groaned at a particularly heavy touch of my body.
We finally came to the end of the massage, and as she dismounted, my eyes opened to what felt like a new world. Colors were brighter; the night was warmer; even my mouth felt constantly compelled to turn upwards, regardless of what was happening around me. My beautiful masseuse blushed as I profusely complimented her skills and technique, and replied that it was her pleasure and that she hoped I felt much better than I did earlier. If only she knew how thoroughly she had changed my night!
I felt a pang of sadness as I showed her to the door, realizing that our night was over, but as I was closing myself into the room after our goodbyes, a hand stopped the door's outward motion. My masseuse leaned in and whispered into my ear, "Anytime you're in Hong Kong, please give me a call. I enjoyed this just as much as you did." And with that, she was gone. Never again will I have a lousy business trip to Hong Kong!